Luxe Luxury Fifth Wheels
The Best Full-Time Four Season Fifth Wheels

Would you like further information about Luxe Luxury Fifth Wheels?
Why Are Luxe Fifth Wheels the Best Full Time Four Season Fifth Wheels for Full Time RVers?
Why are Luxe Fifth Wheels the best full time four season Fifth wheels? Initial intention and design are an important part of making a True four season Luxury RV. At Luxe we intend to make an RV that is truly comfortable in extremes of weather as well as prevent detrimental occurrences of freeze-ups and HVAC system overloads. Construction design at each layer is imperative because there is little that can be done after manufacturing to retrofit an under-designed product.
Best Four Season Fifth Wheel RV Construction Starts with Sidewalls
We start with our sidewall design because in an RV this is usually the one component that has constraints. Luxe has the thickest sidewalls in the industry at 3 inches, important in all 4 Seasons. Due to material, dimensional thickness sidewalls are the largest portion of surface area, and they can be exposed to horizontal winds.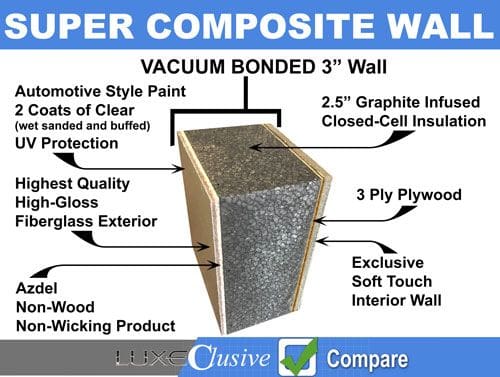 Ultra-High-Strength. Maximum Insulation.
These walls are ultra-high-strength, with a polyurethane laminated, multi-layered construction, starting with an outer layer of thick Gel Coat fiberglass with an Azdel composite layer beneath, this is on top of aluminum welded cage, filled with a solid High Density closed cell graphite infused foam insulation. This insulation is shown to not retain or wick any moisture, degrade over time, mold, or mildew. This provides the maximum amount of insulation per inch of any product used in the industry. Even our slide-out sidewalls are insulated the same as our main walls. Many competitors will downgrade the insulation in their slide-outs to save on costs.
By contrast, many of the other manufacturers use either a thinner 1" to 1 ½" wall or a "hung glass" wall that is stuffed with fiberglass insulation. The fiberglass insulation used in the typical RV wall application is often compressed into a narrower space than is required by the insulation maker, therefore reducing its R-value dramatically. However, many manufacturers still quote the higher R-value in their literature. For example, one major company with hung glass walls and screwed sidewall construction, claims it is the "Best Insulated in the Industry" with R-16 Fiberglass. In truth, when the R-16 fiberglass is compressed into a 2 ½" cavity it results in the R-value of this wall being reduced by 44% to an R-9. The fiberglass is also inferior to solid closed cell block foam in walls from the standpoint of air infiltration, air moves freely through fiberglass layers reducing its R-value. In addition, in a vertical sidewall RV application "loose" fiberglass tends to settle from road vibration over time leaving gaps at the top. This condition is impossible to fix without removing the walls.
The added benefit to Luxe's Welded and Laminated wall construction is added strength and rigidity to the coach which prevents flex on seals and gaskets preventing future air and water infiltration. We frame out all openings (windows, doors, compartments, even vents, etc.) our welded aluminum framing is filled with wood.
The Best Four Season Fifth Wheel Construction Starts With Designing the Best Insulation Package for Full-Time Rving
In the LUXE roof construction, high-density Fiberglass is used and is great for this horizontal application, considering the extra space there allows the full R-value of the product to be realized without compression. Fiberglass allows us to install wiring and insulated ductwork for the air conditioning system including return air while maintaining the serviceability of the systems. Standard on all LUXE models are low profile whisper-quiet AC's/Heat Pumps with a return air system, the quietest and most powerful in the industry. Claims of roof insulation by other manufacturers are grossly exaggerated, some claiming up to R-40 in a 6" roof, which is impossible. In part, claims are overstated on reflective materials used, these require large adjacent dead air spaces to achieve an increased R-Value, clearly not present in their roofs. R-40 would require a 12" roof at least.
Protection Against Freezing Water Lines and Tanks is a must for Full-time Fifth Wheels Luxe' Systems are Redundant in this Regard
Floor Construction again provides ample room for utilizing high-density Fiberglass insulation without compression and allows heat runs, plumbing, and electrical installations while maintaining serviceability. The frame is first prepped by applying a thick tough corrugated poly-carbonate material on the bottom, the frame is then flipped and ready for insulation. First, another layer of bubble style insulation reflective sheathing is applied on top of the bottom board and carefully wrapped up the inside of the vertical frame rail on each side then a double layer of high-density fiberglass is applied on top of that and up the insides of the frame rail. Heat and cold will transfer on the I-beam therefore we chose to insulate this area. The plumbing wiring HVAC and holding tanks are installed inside of this area, as well as a heat run from the furnace to heat this area.
At Luxe We provide multi-layer protection by adding the upper welded aluminum 3" floor structure topped with a screwed and glued ⅝" tongue and groove marine plywood. The Floor is stuffed with high-density fiberglass insulation then a layer of bubble-style insulation reflective sheathing is applied underneath and the layer of waterproof Darco sheeting the full length of the floor and wrapped up over the edges. This floor is then ready to install on top of the frame. The insulated floor is then installed on the frame to complete the envelopment of the heated underfloor. At Luxe we try to build in redundancy for our system protection, so we install electric heat pads on the holding tanks, in addition, to directly heating the subfloor area.
Luxe's Arctic Package takes Four Season Fifth Wheel Construction to another level for Extreme Cold
In addition, for extremely cold areas we offer an additional arctic package that goes beyond our standard 4 season package that includes 2-30,000 BTU furnaces, 2 heat pads on the freshwater tanks, and foam insulated Pex waterlines.
Our front and rear walls consist of a one-piece fiberglass cap. Underneath we have Welded cage construction, Radiant barrier insulation, 2 layers of glued in high-density fiberglass insulation, Darco waterproof moisture barrier.
Full Time Four Season Fifth Wheel Construction Relies on High-Quality Installation of the Best Insulative Materials
During Manufacturing at Luxe installation of insulating materials is as important as fit and finish inside the coach. At Luxe our pace of production allows superior attention to detail in this area also. High volume manufacturing can frequently lead to insulation voids and materials like cutouts and trash left behind that compress insulation. This can all lead to cold/hot spots possible freeze-ups and a generally uncomfortable experience. We carefully place all insulation and carefully seal all areas. This includes a triple seal system on all slide-outs which is a major source of air infiltration on other mass-produced RV products.
Schedule a Factory Tour today to Witness First hand how Luxe has become the best in full time four season Fifth Wheel Manufacturing.